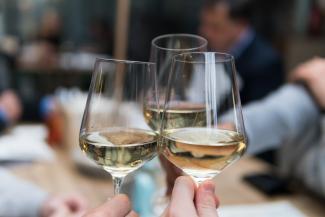 Where to go for Happy Hour: Short North Edition
As I began to brainstorm ideas of what to write about, I couldn't help but feel drawn to almost everyone's favorite pastime: happy hour. Whether you're in grad school with desperate needs to blow off steam or a father of two little ones, most can agree that enjoying a libation at a discounted price tops the list for an ideal activity.
When I began my search of happy hours in Columbus, I realized there isn't a comprehensive, up-to-date list actually rating the happy hours.  My team and I decided to rectify this situation ASAP.
There are a million ways to measure the "best happy hours" so the following are completely based on the unscientific opinions of me and my team. With so many options, I'm sure we have missed some real gems, so please feel free to send along your favorites with your true and unabashed opinions and we will be sure to update in a future post!
1. The Table 21 E 5th Ave #101: This is a newer Happy Hour I've recently become obsessed with and not just because it's within walking distance of my house. The Table is known for their creative and unique dishes sourcing mostly local ingredients. The restaurant is in a quaint home that has been repurposed as a restaurant. While their happy hour isn't the absolute cheapest, it includes higher shelf liquor and continues into the weekend, unlike most.Timeframe: Tue-Thur. & Sun 5-9pm, Fri-Sat 5-7pm
Liquor: $4 pours and simple cocktails
Beer: $4 cans
Food:  $2 off small plates
2. Union Café 782 N High Street: If you've walked down the Short North on a Saturday or Sunday morning, you've likely seen the large mass of people on Union's patio for brunch or glanced at the outdoor TVs to find some of your favorite music videos from the 90s. While their brunch is everyone's favorite, their happy hour is pretty impressive as well and the atmosphere is always fun and upbeat. Not only is the happy hour a decent deal but if you've ever had a cocktail from Union, you would probably agree with me that the pour is nothing short of "ahem" heavy. More bang for your buck.Timeframe: Mon-Fri 4pm-7pm
Liquor: $3 wells & $5 grey goose/cosmos w/ Smirnoff
Beer: $2 drafts/domestics
Food: 50% off all appetizers
3. The Rossi 895 N High Street: The Rossi holds a special place in my heart because it was a regular destination when I was going to Ohio State and somehow it had fallen off my radar until recently my boyfriend demanded we go and I was reintroduced with a bar I loved. The vibe is very cool, modern, and the food is on-point. The atmosphere paired with dirt-cheap cocktails and beer solidifies the awesome experience, which explains the standing room only when we go on any Friday evening.Timeframe: Mon-Fri 4pm-7pm
Liquor: $3 wells
Beer: $3 drafts $2 domestics
Wine: $6 Pinot Noir, Pinot Grigio, Rose, $5 sparkling wine
4. Lemongrass 641 N High Street: Asian inspired fare is my favorite so it's no surprise I frequent this restaurant but what makes its happy hour so unique is the timing. If you can't make happy hour after work, you have options at Lemongrass and the prices aren't too bad either.Timeframe: Mon-Fri 3pm-7pm & 9pm-Close
Liquor: $3-$6 cocktails, $4 sm. Saki and $6 lg. Saki
Beer: $1 off all beer
Wine: $6 glasses
Food: $3-$7 appetizers, $3-$6 sushi
5. Bodega 1044 N High Street: If you're a beer lover, you've come to the right place. Bodega has been known for its draft selection since inception before the Short North was all gentrified. There are many bars that have 50% beer specials but not many that have the selection or creative food specials that Bodega does. The vibe is great and the food specials unique; you definitely can't go wrong.Timeframe: Mon-Fri 4pm-8pm
Beer: 50% off
Food: Mon-$1 Grilled Cheese Tue- $3 Tacos, Wed-50% Wings, Fri-$10 Fish and Chips
6. Forno 721 N High Street: The beauty of such a simplistic happy hour (50-50-50-50) after the hours it took to tediously track specific days, times, and specials of other bars can't be expressed in words but the value of this happy hour can; fantastic. While your window of time is slightly limited (2 hours), the deals can't be beat since it's essentially 50% off of everything. Their pizzas are freshly made and stone fired. And did I mention the design is pretty spectacular too? It's no wonder this place is packed all the time.Timeframe: Mon-Fri 4pm-6pm
Liquor: 50% off cocktails
Beer: 50% off drafts
Wine: 50% off wine
Food: 50% off bar snacks, shared plates, and pizza
7. Marcellas 615 N High Street: If you're from Columbus or have spent more than 4 days here, you're probably wondering how a restaurant in Cameron Mitchell's empire hasn't revealed itself on my list yet. Fear no more as Marcellas makes number 8. Aside from the consistently superb service to be expected at a Cameron Mitchell restaurant, this one has one of my favorite atmospheres of them all. In the heart of Short North, this restaurant has retractable glass windows that makes for the perfect pre-dinner drink, worthy of any patio. It feels classy, yet rustic and the food is pretty phenomenal as well. Oh…and their happy hour is pretty kick ass too.Timeframe: Mon-Fri 4pm-6:30pm
Liquor: $5 Spirits and Specialty Drinks
Beer: $3 Beer
Wine: 50% off wine
Food: 50% off bar menu
8. Barrel on High 1120 N High Street: This bar isn't everyone's "scene" but it is every bit of home to me with its focus on bourbon and use of a giant drink wheel. It's a little unconventional compared to the trendy warehouse bars flooding Columbus but it feels like comfort. Additionally, it has some pretty unique food choices like duck wings and grit cakes. Definitely worth checking out during happy hour which doesn't disappoint with whiskey specials, beer, and food discounts.Timeframe: Mon-Fri 4pm-7pm
Liquor: $3 Wells & Some Whiskey
Beer: $3 Bottles/Cans & $4 Drafts
Wine: $5 wine
Food: $5 starters at the bar
9. Char Bar 439 N High Street: 4 words: Long. Island. Iced. Tea. If you've ever graced Char (Charberts) Bar with your presence, you've hopefully been talked into trying their Long Island Iced Tea by a drunk friend or stranger at the bar. Yes, I know "LIIT" isn't on the happy hour list specifically but it's worth trying. It also has an awesome creepy basement that used to represent the ground level of High Street. There's plenty to see and drink at this amazing dive.Timeframe: Mon-Fri 4pm-6:30pm
Liquor: $5 Spirits and Specialty Drinks
Beer: $3 Beer
Wine: 50% off wine
Food: 50% off bar menu
10. Tastings 958 N High Street: This restaurant and bar provides a unique offering of wine tastings rather than only glasses and bottles. Not only does this give you an opportunity to try more types of wine but its card-based payment system will wrap you in nostalgia, transporting you back to your child-like days of Dave & Busters. Their specials are also notable, with a standard happy hour Tuesday-Friday and weekend deals on bottomless mimosas and bloody marys.Timeframe: Tue-Fri 4pm-6pm & Sundays all day
Tue-Fri Menu: Entire menu is 50% off
Sunday Menu: $15 Bottomless Mimosas $5 and Bloody Marys