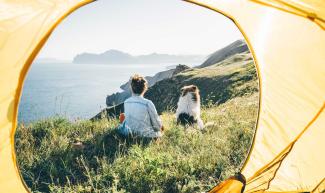 Will You Retire? The Case for Vision Planning, not Retirement Planning
Will You Retire? The Case for Vision Planning, not Retirement Planning
The concept of retirement has drastically changed over the last century and continues to evolve with every generation. Social Security's intention wasn't to support an entire nation when it was created and company pensions existed strictly to entice physical laborers to work until they physically couldn't anymore. Compare those early intended-supplements to our now defined "traditional retirement" where you wait until your 65, collect social security and if you're diligent, begin collecting from a 401k or company pension while kicking back in the Bahamas.  Retirement has been re-defined.
Now that we are almost in the 2020s, once again younger generations view the idea of retirement very differently than generations past. While there are still individuals who plan for a traditional retirement, many younger generations have a jaded view of what's available for their retirement and that does shape their intentions and ultimately their actions. For example, social security isn't a reliable source of income, company pensions are mostly obsolete, and the massive amounts of student debt accrued doesn't make retirement savings a top priority for a 30-year-old.
Not only does the reality of our world today play a role in the perception and action of saving for a retirement plan, but the long-term vision of younger generations is changing as well. According to Bentley University's Center for Women and Business, 84% of millennials want to "make a difference" more than they want recognition. This exemplifies that a fundamental shift in the types of jobs and careers younger generations are willing to take may be happening and because of this purpose-driven life, the notion of retirement may also shift.
I would argue that we should no longer assume retirement is the goal but "transition" is a more appropriate description of one's ultimate life vision. Perhaps someone will work part-time for a non-profit or start a side hustle towards the end of their life. Either way, this begs for a different type of planning to reach those goals. The amounts contributed to a 401k or IRA may not be ideal or necessary for an individual who will have a stream of income through the rest of their life, though the amounts of those cashflows will be increasingly important.
You only have one life to accomplish your dreams and set out to be the best "you" possible. Consider your ultimate goals and make sure your financial professional plans for your vision of life; whether that includes traditional retirement or not.
Works Cited
"Gloria Cordes LarsonCenter for Women and Business." PreparedU View | Bentley University, Bentley University, www.bentley.edu/centers/center-for-women-and-business/millennials-workplace.